Went to Lantau Island to see the Tian Tan Buddha (天坛大佛), a large seated bronze statue of Buddha, located on the Ngong Ping Plateau. To get there, we took the MTR to Tung Chung station & rode the Ngong Ping Cable Car up the mountains. The price for an adult round trip ticket is HK$96.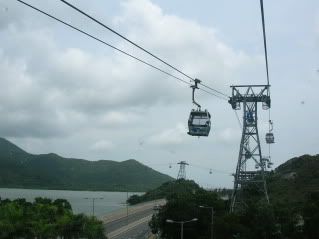 This is the special 360° cable car - the base of the cabin is glass-panelled which means you not only can look out sideways from the cabin but also downwards, thus offering a 360° view of the outside scenery. Perhaps this is not so suitable for the faint-hearted.
It was a cloudy day, windy & drizzling, so the ride up was rather rocky. The cable car we rode in was like swaying left & right and my worried niece was asking if we would actually hit against this tower as we passed by it. Er, no one dared to answer her question :)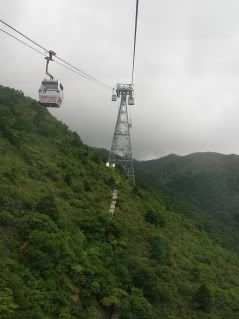 Ngong Ping Village - there are many restaurants & gift shops along this street.
Of course, we could not resist stopping by at "Honeymoon Dessert" for their yummy desserts. I had the mango-beancurd dessert - very nice, the beancurd's very tender & smooth. Great stuff!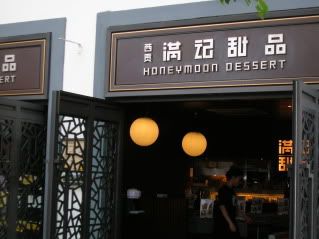 After desserts, we continued on our walk towards the Tian Tan Buddha statue. Here, you can see the Buddha statue in a distance, buried in the clouds.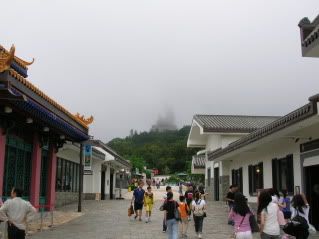 We gotta climb this long flight of stairs to have a closer look at the Buddha statue. Huff puff...
As it was a cloudy day, this is the only clear photo I took of the statue just when the clouds happened to disperse for a minute. Immediately after taking this photo, the statue was once again clouded over...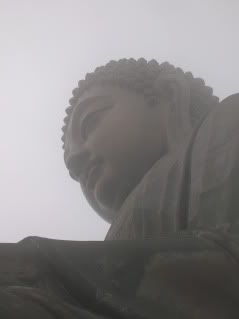 Next, we proceeded to have our vegetarian lunch at the Po Lin Monastery, which surprisingly turned out to be quite delicious. Price: HK$100 per person.
Psst...Those interested in shopping may want to visit the mall located just next to the Tung Chung MTR station. They have many branded goods factory outlets there & you can find some nice stuff at discounted prices. :)